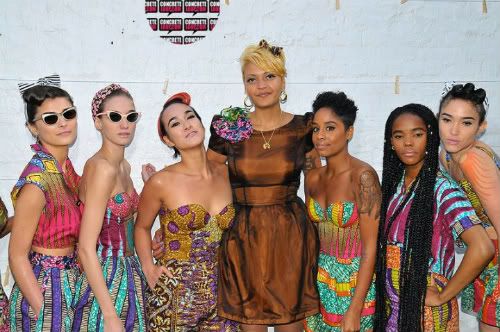 "Both playful and audacious, equal part reverie while pushing the boundaries of fashion completely forward, Boxing Kitten is a vibrant melee of Then and Now. Vintage-inspired silhouettes celebrate a time gone by, with designs that call upon the spirit and lives of mid-century American women that are modernized for the woman of today and the future." http://boxingkitten.com/profile
The collection uses African wax block print fabrics, which makes each piece unmatched. Founder and designer, Maya A. Lake. expressive her collection as being  an "ethnic rockabilly" look. I would say that it the right description.
Boxing Kitten an impressive array of celebrity fans and high clientele. You can spot these bright, colorful pieces on fierce women such as Beyonce, Alicia Keys, Rihanna, Solange Knowles, Fergie, Erykah Badu, and in the pages of The New York Times, Teen Vogue, and Arise.
Maya Amina Lake was born in Brooklyn, NY. Daughter to Marion and Oliver Lake, she grew up in New Jersey and has a B.A. in African-American studies from Wesleyan University.  Lake is a self taught designer and entrepreneur.